The Cuban Heart Of Old Havana
Overlooking crumbled pastel architecture of Spanish Italian majesty, the air carries the ocean across 'Habana Vieja', Havana Old Town: people sit chatting on porches watching passers by with a smile and a gesture.
My first awakening, I walked out onto 'El Pradho', a wide, street lamp lined walkway towards the 'Malechon', the 500 year old harbour wall (1600), guiding the ocean's mouth into the body of the old town, fringed with beautiful decaying grandeur. To my gentle surprise, I felt safe and comfortable to stroll down the streets to investigate.
Pony tailed school kids reached out their palms for jelly beans (I 'd filled my suitcase- I heard the people love candies). The vintage Hotel Sevilla overlooked the Ballet School, piano music wafting into my window on the 7th floor. Built in the 1920's, Its sixth floor was the base for the American Mob, Italian Mafia and later Al Capone in the 50's. Black and White photographs document royalties, film stars & personages who have trodden here, weaving a rich history of drama and style, beauty and trauma.
I had landed in a musical artistic heaven, a haven for creative, growth mindset.
That morning I found the Dance School, Casa Del Son, enrolling in Argentine Tango, Salsa and Rumba classes, stepping into an atmosphere of joy and community within small rooms of a 17 century rabbit warren of colorful spaces.
In Havana there are no weapons nor crime on the street. A positive manifestation of Castro's Social Rights, the Government provides basic health and education with food rations collected from Bodega's, small stalls ensuring basic staples of rice, beans and other essentials, though not luxuries.
This culture is not spoilt and I mean this as a pun, in the true sense of the word. No corporate cafes, no designer labels. It is hard to get a smart phone: people are talking to each other, heads up rather than heads down, engrossed in tech.
Epitomizing this value is a semi abstract sculpture called 'The Conversation' in St Francis Assisi Square – two Moore- ish shapes interweave through bronze space into human beings in dialogue.
'THE FAC'
Some evenings lining up in a chilled out queue, all clothes & ages filtered past walls of vibrant graffiti, one Spanish line reading: 'I love my scars'.
Cuba has a bittersweet history of two main exports: sugar cane production and slavery. Human Traffickers brought and bought slaves though this Afro – Cuban porthole to Africa , America and Europe, Christopher Columbus' arrival port.
A vibrant Arts 'FAC' housing photography, film, DJ, live music thrives from Thursday to Sunday, costing 2 'cuc' to get in – (under £2), making it accessible to locals. One piece of Art drew me in: a photo nude of a woman of colour, seated with her torso facing the camera, collaged into strips of paper and photography to make it harder to read. On closer inspection, manicured fingernails caressed her own back, a woman of beauty and finesse.
On close – up zoom lens, detailed diagrams like braille were printed finely over her body, careful designs of line drawings and written script. On squinting the eye one could decipher the layout and design of the slave ships as they left Havana port to Europe, bodies lying on decks, layered in chains. The first freedom of slaves began in Haiti in the 1770's, but it took another 100 years to eradicate slavery from the America's.
A provocative juxtaposition of beauty and pain written in the body describes a culture who have strived to regain and maintain their integrity and identity, no longer swallowed up and spat out by 'larger fish'.
CANDY PINK CADILLAC
Sipping cuban coke ('Tukola') by the pool alongside El Pradho, musical sound baths float on the breeze: percussion soaked guitars, soulful vocals. The atmosphere is infectious, and in the Hotel's foyer amid blue and white majolica tiles, cigar smoking cafe artists sip cuba libre (rum, coke, lime) whilst a waiter will take you by the hand and spin through salsa steps.
The U S Trade embargo on Cuba in the 1950's waved a bittersweet magic wand, suspending Cuba in time; candy pink Cadillacs, turquoise Chevrolets, Russian green Ladas, (a tiny car in comparison) line pastel tinted streets of Old Havana, whilst their owners, skilled mechanics, sit calmly waiting for business, adorned in panama & cowboy hats. It is said, if you want to get your car mended, ask a Cuban!
On the outskirts, Mhai Yoga is set up in a beach neighbourhood beside an unpretentious Caribbean sea, azure turquoise swimming, kids going to school in horse drawn
carriages & beat up cars. Reggaton music booms out of local houses – there is always music in the air. At the retreat, Salsa classes skilfully and playfully lead us through basic (& more complex!) steps, each with a partner to dance us into the afrocuban rhythm!
Delectable vegan food is inspired by Chef (Ernest) who runs a small, private rooftop restaurant called a Paladar in the heart of Old Havana. 'Paladar' are family run private dining rooms, an incentive for creative culinary skills.
We lunched in this gemlike old curiosity shop, a marvel of childlike wonder on the rooftops of Havana.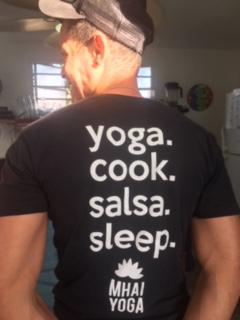 'Criollo' is the name given to the African with Spanish Descendents, with 'Mulata' describing their coffee colored skin. The old Afro Caribbean religion 'Yoruba' worship nature and the elements, and you feel a deep connection on the Ocean's edge.
The deep bending knees in the Rumba dance is called 'Muelleo', embodying a rooting energy, (as we work with the legs for this reason in Yoga Standing poses).
On our last day we were given a yellow sunflower, a ritual of the Yoruba, to give as a gift to the sea, whilst releasing any wishes to let go of.
Havana calls you to break the ice on the surface of life! The Cuban heart opens a new door between Nueva Plaze and Plaze Vieja – the old and the new. Here we discover that limitation leads to creativity – and resilience is a hallmark in Havana.
Now is the time to come to Cuba as she moulds her identity with fire & resilience! Bring candies, jelly beans, pens, paper & any clothes you are willing to leave behind.
Return home with an empty suitcase, a broad smile and an open heart!
Yoga Tango Freestyle Movement Practice
Join Liz for Yoga Dance movement sessions to warm the heart, soul, free tbody mind! Inspired from her recent trip to Cuba. Creative, Nourishing, Wholistic
For Bookings, liz@lizlark.com