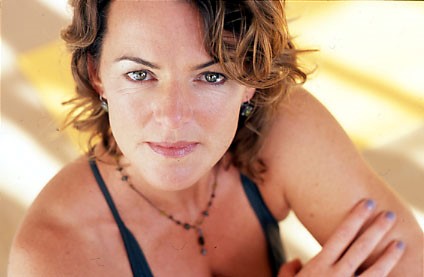 'The Eye Altering Alters All' William Blake
Liz Lark has been teaching yoga for almost 20 years, developing from British Wheel of Yoga (Hatha) Teacher Training  foundations, Astanga Vinyasa Yoga ( see footage of practising in mid 90's in under Derek Ireland, Vimeo.com: Ashtanga Vinyasa Yoga Practice, Agios Pavlos, Crete), Teacher Training in Goa and Mysore (1995).
She has been connected with The Life Centre London since 1995.
Thai Yoga Massage training in Chieng Mei has informed hands- on adjustments, which Liz teaches along with Creative Sequencing, for the London Teachers Training Course www.yogacampus.com, on which she's a board member.
Artist trained (BA, MA  Ceramics & Performing Arts) , Liz draws inspiration from Nature, the Body, Poetry, Music and contemporary Bodywork.
She now fuses Yoga as Art in a series of Mandala Drawings, illustrating sequencing, layered with motifs for visualisation, contemplation and mudra (gesture) and mantra (heartsong). Her teaching draws on these inspirations, with a contemporary interpretation of philosophy (see book: '1001 Pearls of Yoga Wisdom').
Drawings are available, DVD 'Yogalibre', and a CD of Yogasongs is available, along with a number of books (See publications).
Based in East Sussex, Liz runs classes and special workshops in Tunbridge Wells (www.pantilesyoga.co.uk).
She teaches retreats and workshops nationally and internationally (see workshops to join).
Clients have included Conductor Sir John Eliot Gardiner & The Monteverdi Choir, English National Ballet, Indian Dance Company Sujata Bannerjee, Ralph Fiennes, Alan Rickman, Mariel Hemingway, Peter Gabriel, Mariella Frostrup,
THANKYOU, SHAKTIPAT!